Black Blood
"I would define it as a longing for a home that no longer exists or has never existed. Nostalgia is a sentiment of loss and displacement..."


- Svetlana Boym - Nostalgia and its Discontents (2013)
Black Blood is a piece of work that deals with the longing to understand Tom Roche's roots. His untalked about Romany Gypsy heritage has been elusive, just fragments of stories and speculation. Liz used to pick hops and an ancestor was stabbed through the heart, or so He's told. Using archival and contemporary images, Roche has explored how he feels as a distant Romany; the transience he's always felt, and the folklore surrounding his family. The understanding of his heritage has always been fragmentary.
'The work started out as an investigation into my family tree; but finding nothing in the way of documentation and formal archives, I set out on a more of an esoteric journey. I had my palm read by Romany Rose at a horse fair; met with Bob Dawson, a specialist on academic writing of Romany and Travellers; and went on a mystical voyage, exploring places my ancestors were said to have lived.'
Kaulo Ratti, translated into 'Black Blood' or 'Gypsy Blood', refers to the dichotomy that Tom faces with his heritage. 'I have Gypsy blood in my veins, but without asking questions or investigating this, I wouldn't have known.'
-
"Black Blood traces the 24-year-old's family history, dealing with the folkloric feeling of being a distant Romani. Roche says that he's "always felt quite lost in the world" and wanted to gain a deeper understanding of his identity. "The process started as a formal documentary project," he says. "I visited Cheltenham [in Gloucestershire, where his family used to live] and went through the local library records." But after struggling to find information, he was forced to re-evaluate his approach."
- BJP online.


Selected features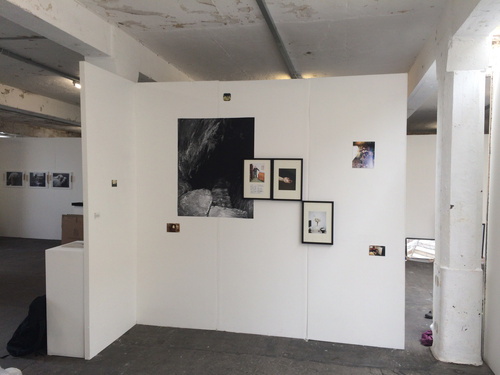 Installation view. Free Range 2018, London.